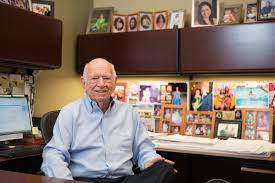 The Springfield City Council will vote this month on a proposal to rename a west-side road in honor of a longtime local businessman who passed away in June.
An ordinance before the council would rename Baer Boulevard as O'Shea Way, in honor of the late David "Bud" O'Shea.
Mayor Jim Langfelder's office notes that only businesses owned by the O'Shea family, including O'Shea Builders, are located on that road, and the family submitted the petition for the name change.