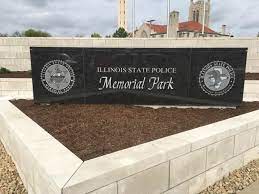 Another name has been added to the memorial wall at the Illinois State Police Memorial Park in Springfield.
Family members gathered Friday to add an inscription in honor of Senior Master Trooper Todd Hanneken. The ceremony took place one year to the day after Hanneken was killed in a single-vehicle line-of-duty crash in his police vehicle.
He becomes the 72nd trooper to be added to the memorial wall, honoring those who lost their lives in the line of duty. The park is located on East Lawrence between 6th and 7th Streets.