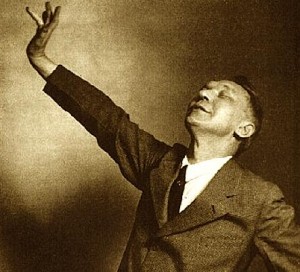 Springfield's most famous poet could easily be described as being ahead of his time.
Vachel Lindsay was born in Springfield in 1879. He grew up and lived his entire life in the family home on South Fifth Street near the Governor's Mansion. Lindsay was the son of a doctor and studied medicine himself for a while, but his true passion was poetry. Springfield was often the inspiration for his works, including his most famous poem, "Abraham Lincoln Walks at Midnight." In 1918, he wrote "The Golden Book of Springfield," depicting an imaginary future Springfield of the year 2018.
Lindsay's work brought him fame in the early 20th Century. But Lindsay was troubled by money and health concerns, and on December 5, 1931, he took his own life by drinking a bottle of lye. His home still stands and now serves as a museum dedicated to his life and work.
Learn more about Vachel Lindsay at SangamonLink, the official blog of the Sangamon County Historical Society… and here each week in the Springfield History Minute.