Greg Bishop wakes you up every morning with liberty-minded talk you won't find anywhere else in central Illinois. With listener calls and news making guests, Bishop takes on the issues impacting you in your backyard, across the state and around the world thought the liberty perspective.
Bishop is also a Radio Reporter for the Illinois News Network covering statehouse issues.
Bishop enjoys the outdoors with his partner in life Meghan.
Have something you'd like to share with Bishop?
Bishop On Demand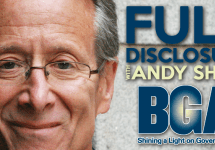 Bishop talks with Andy Shaw of the Better Government Association for Full Disclosure